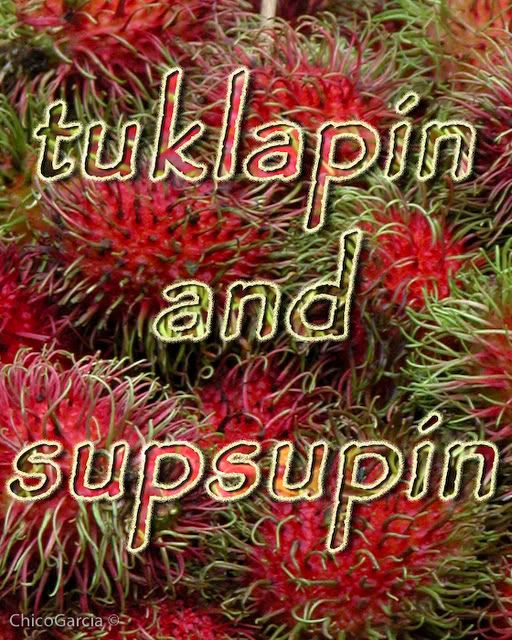 When we were in San Pablo for a photo trip, our friend Greg proffered a little-known factoid.  That the then copious and inescapable rambutan had 2 variants: the "tuklapin" and the "supsupin".  We laughed at the obvious jokes-just-waiting-to-be-cracked, but he swore by the veracity of his "fruity" claim.  One was supposed to be peeled off easily (I suppose the tuklapin), and the other was so runny, that the only way to eat it is to suck it like a kuhol (I suppose the supsupin).
Given that the rambutan was already ripe (pun intended) for disrepute, since it resembles a red unshaven testicle, they just had to add to its ignominy by appending to it variant names that sounded like something you do only behind closed doors, and only with someone you're intimate with.  Can you imagine moseying up to a fruit vendor and asking, "miss, ano ba yung sa inyo, tuklapin o supsupin?"
In Malay, rambutan literally means "hairy".  In fact, its closest relative, the lychee, is like a hairless rambutan (which coincidentally, resembles a shaven testicle).  One website described the 2 variants as freestone and clingstone, which sound suspiciously close in spirit to tuklapin and supsupin.  But once you climb the rambutan family tree, you'll find a pandora's box of varieties.  From "Lebakbooloos", "Seenjonja", and "Seelengkeng" to "Queen Zaida", "Princess Caroline, and "Baby Eulie".
So tuklapin and supsupin barely scratch the surface of the hairy rambutan (which is actually redundunt because that literally translates to "hairy hairy").  But at least you walk away with a deeper appreciation for the fruit, knowing a little bit more about its history and genealogy.
So now you know, that before you buy your next kilo of rambutan, you should ask yourself, "What do I want?  Something that will easily give up its sugary center to an insistent, nimble, probing tongue? Or something that needs a little coaxing, a little bit of forceful vigorous sucking, before you get to the climactic explosion of sweetness?"  Whatever your answer is, run to your nearest fruitstand, be it at Nepa Q or Rockwell, and ask your friendly fruit monger, "Miss (or Manong)…yung inyo po…tuklapin o supsupin?"