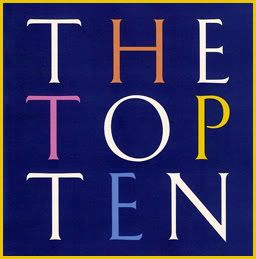 We like to mix it up on the show. One day we can go funny, the next we can go sad. One day we can go bastos, the next we try to be wholesome. Sometimes we want to make you laugh, sometimes we want to make you cry. And sometimes, we LOVE to make you cringe…! The day we did this Top Ten, many people actually texted that they had to switch off the radio because they couldn't handle the graphic details.
January 31, 2008 – The Top Ten Most Physically Painful Moments Of Your Life
Dongster – Habang tinutuli ako, nawalan ng bisa yung anaesthesia kasi makunat na daw yung bird ko.
Jedi Master – You know that paper cutter in the office, the one where you cut thick reams of paper? Now imagine my stupid finger getting in the way. The cutter sliced a small chunk of flesh from the finger. Akala ko putol na.
Billie – I dropped a folding table on my big toe. That toenail had to be removed twice in the last 2 years. I'm due to have it removed it again soon.
Vi – My necklace was snatched, but I made "palag" so he made "saksak" my neck with an icepick and ran away.
SPY Shadow – My leap to the other side of a canal fell short that my right foot went straight into the muddy water and landed right onto a broken bottom half of a Coke litro bottle which sliced open my ankle exposing my veins and bone!
Michie – When I was sewing an apron on a sewing machine, I got distracted and the next thing I knew, the needle was sewing my finger. Later, I found out that part of the broken needle was left inside my finger. I had surgery to remove it.
Paolo – Hot radiator fluid suddenly poured on my feet when I was riding in a bus in Baclaran. When I went to the hospital, and the nurse was removing my socks, sumama na yung skin dun sa socks.
E3C – I worked in a pizza parlor when I was in college. One time, I was washing a knife. Sa sobrang talim, nahati yung sponge na hawak ko, tapos patak na ng patak ang dugo. Hiwa ang sponge, hiwa din ang palad ko.

Lucyness – M

y officemate had stones in his bladder and the d0ctor said he just needed to PISS IT OUT! When the stones came out, they were the size of peas, and they were crystal-like. Piss+pea-sized crystal-like st0nes+bl0od=messy!
Jr. – Nung bata pa kami, nag libot kami sa sementeryo at nagtatatalon sa mga nitso. Pagtalon ko sa isang nitso, nabutas yung nitso, lumusot sa loob yung paa ko, sugat ang paa ko, at natapakan ko pa ang mukha ng patay! Sa sobrang takot ko di ko naramdaman yung sakit until after I got home.
Maximo – I fell from our 2nd floor window, at na-shoot ako sa drum na waist high: 1 leg in the drum, 1 leg out. Basag ang jingle balls ko.
Andrei – I was with my kalaro and we were playing at the mango tree near our house. While playing, I saw a piece of broken glass, about 2 inches, jutting out from the ground. Since I thought it might hurt someone, I tried to pick it up. As my right hand was right above the glass, my kalaro jumped from the tree and landed right on my hand, impaling it on the glass.
No name – We bought a pair of earrings for our 1-yr old daughter. We got the one with a screwable lock. A few weeks later we thought 1 of the locks got lost. It turned out that we screwede it on too tight that the lock got embedded inside the meat of her ear. She underwent a minor surgery to have it removed. Now she's 3 and never wears an earring.
Hukombitay – It was when I got operated on my stomach and a foot of my large intestine had to be cut off. I'm a smoker, so the next day after the operation, I coughed so hard that my tummy reopened and I ended up holding my guts in my hand with the big scorpion-like stitch.
Joan –

I was washng my face in a hurry because my daughter was crying. I was washing so hard that my whole ring finger got shoved up my nose. Wen I removed my bloody finger, blood started gushing out my nose.

Jessica – I fell down the stairs and I bit off my tongue.

Strat – I woke up choking one night. I realized I swallowed the wires of my retainers. I choked and it went up my nasal passage. They had to pull the wires through my nose, blood everywhere.

Darth –

When we were in a major mall, we were going down the esclator when it suddenly stopped. What caused it was a kid's hand got caught in the esclat0r. Apparently he dropped somthing & when he bent down to pick it up, his fingers were "eaten" by the teeth of the escalator.
Bernadette – When I was in preschool, I had this classmate who'd always stand by the door. One day, she was there during recess and someone banged the door so hard, that the girl's thumb was cut off completely. She passed out immediately.
Stanley – I was crossing a wooden plank when I saw a nail protruding. I jumped over it, but I lost my balance and I landed on the nail hitting me in the pateros region.

MNEMONIC -

I saw a story on the net wherein they had a graphic story of a rescue of a child's full hand caught in a meat grinder and jamming it.